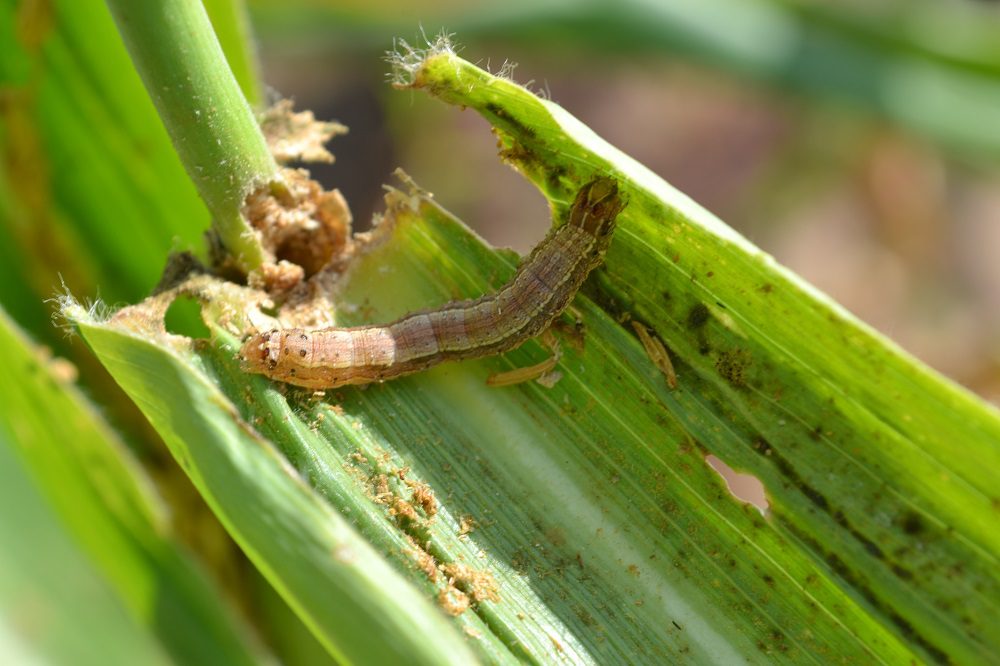 Smallholder maize farmers in Ghana provided with early warning pest alerts and Integrated Pest Management (IPM) advice about the fall armyworm pest enjoyed greater food security than their counterparts who were not privy to such information.
A new CABI-led study, published in the journal Food Security, reveals that smallholder maize farmers who took part in a pest risk information campaign using data obtained from satellite technology achieved an average of 4% gain in yields.
The sample of 888 farm households operating 1,305 maize fields surveyed by the scientists in the major maize growing Bono and Bono East regions of Ghana, were also around 33% less likely to report experiencing hunger.
Further results from the survey indicate that, where women received pest risk information, alone or together with their spouses, they were more likely to achieve positive outcomes than if the only recipient of the information was a man.
The findings of the research imply early warning pest alerts together, with actionable IPM information, can contribute to the adoption of sustainable crop protection technologies and improve the standard of living of farm households.
In Africa, the annual cost of invasive animal, pathogen and weed species to agriculture is USD $65.58 billion. The fall armyworm (Spodoptera frugiperda) alone contributes to average maize losses of 26.6% in Ghana alone.
To help address these issues, CABI in collaboration with international partners initiated the Pest Risk Information Service (PRISE) project with the goal of improving smallholder livelihoods by reducing crop losses.
The project uses a combination of earth observation technology, satellite data, pest life cycle, and real-time field observations, to deliver early warnings on crop pests to farmers, so they can use IPM plans to mitigate potential yield losses in good time.
During the 2021 agricultural season in Ghana, PRISE used a combination of satellite observations, geographic and weather data, and pest modelling, to forecast the risk of fall armyworm outbreaks, which were then transmitted to farmers through Community Information Centres (CICs) and voice short message service (SMS).
Dr Justice Tambo, lead author of the study and Senior Socio-Economist at CABI, said, "Our findings contribute to the literature on sustainable pest management in smallholder farming systems and the effectiveness of mass media campaigns in improving agricultural productivity and farmers' livelihoods.
"It is possible that the productivity and welfare gains could rise in the future when farmers have had much experience in applying the knowledge gained, particularly given the complexity of IPM practices."
The scientists recognise that the gains from the pest risk information did not translate into a significant reduction in pesticide use and greater household dietary diversity and that these areas require further investigation.
Dr Tambo added, "While the objectives of the studied intervention are not nutrition-related, any positive indirect effect on dietary quality or nutrition outcomes will be pertinent, particularly considering the alarming levels of malnutrition among rural populations."
The researchers conclude that the intervention can be used to promote nutrition-sensitive agriculture by integrating some nutrition education into the pest-related campaign messages.
Additional information
Main image: the fall armyworm (Credit: CABI).
Full paper reference
Tambo, J.A., Mbugua, F., Duah, S.A. et al. Pest risk information, agricultural outcomes and food security: evidence from Ghana. Food Sec. (2023). https://doi.org/10.1007/s12571-023-01398-w
You can read the paper in full open access here: https://rdcu.be/dl2eV
Funding acknowledgement
This research was financially supported by the UK Space Agency through the PRISE project, and by the Foreign, Commonwealth & Development Office (FCDO), UK; the Directorate- General for International Cooperation (DGIS), Netherlands; the Swiss Agency for Development and Cooperation (SDC); the European Commission (DG DEVCO); the Australian Centre for International Agricultural Research (ACIAR); the Ministry of Agriculture of the People's Republic of China; Irish Aid; and the International Fund for Agricultural Development (IFAD) through the Plantwise programme.
Useful links